An Afternoon at the Chickasaw National Recreation Area
These shots were taken at the Chickasaw National Recreation Area.
Click the image below to enter this gallery.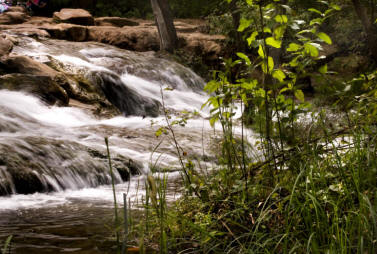 More About This Region
The Chickasaw National Recreation Area encompasses the Arbuckle Lake region as well as what used to be known as Platt National Park next door to the town of Sulfur, Oklahoma about an hour and a half south of Oklahoma City. This region lies just north of the Arbuckle Mountains and is a region of many flowing springs and bubbling brooks. The town of Sulfur attributes its name to the smell of hydrogen sulfide present in many of the springs. Other minerals in the water include calcium carbonate dissolved out of the ancient limestone rock of the Arbuckles. The carbonates precipitate out of the water forming travertine rock formations throughout the region.
The CNRA lies in a transition zone running north to south from Kansas, through Oklahoma and into north Texas known as the Cross Timbers. The Cross Timbers marks the dividing line between the deciduous and evergreen forests of the southeast and the prairies of the Great Plains to the west. The Cross Timbers flora consists mostly of smaller Post Oak and Black Jack Oak trees densely interspersed with brambles, ivies and other dense shrubs. The Cross Timbers was considered a barrier by early pioneers because of the difficulties of cutting and maintaing wagon trails through the dense underbrush. The CNRA lies on the western edge of the Cross Timbers in this part of the country and hiking trails in the park will take you from the Cross Timbers into prairie lands featuring both short grass and tall grass.
But the main appeal of the area is the countless crystal clear bubbling brooks and waterfalls. The native Americans of the region called the area "The Peaceful Valley of Rippling Waters." Travertine Creek and other brooks create a multitude of shaded waterfalls and quiet pools and ponds.
Shooting on this Day
Shooting conditions on this day were really not good for typical landscape photography. The sky was just short of overcast with a bright haze of flat light that really cut contrasts and created bright reflections on surface pools. However, I've always found this sort of lighting to have advantages in densely wooded scenes where the "light box" light wraps around the trees and evenly illuminates the scene. That's what kept me out of the prairie areas and in the woods on this day. The use of a polarizing filter would have helped quite a bit but... Yep, I left the filter kit at home in another bag. Grrrrr!